Key takeaways (further developed in an
interview
on TechSoup Global) for me included :
1. The concept of liability for not using Big Data.
2. The democratisation of data through new tools and technology
3. How to innovate without jeopardizing privacy and with ethical consideration
Working as the Global Data Services – Senior Manager for Business Planning and Research at TechSoup Global, I am constantly thinking, researching and writing about ways that open data and big data can be used for scaled social impact. This includes considering how to ensure inclusion of and use of data by and for civil society organisations and civil society in general. Analysing ways this can be done sustainably is also a key part of this work. One of the projects TechSoup Global is working on is the very ambitious and potentially groundbreaking
BRIDGE project.
This is being run through a 4 organisation partnership of which they are a part and the aim is to create a unique ID for NGOs globally to help improve interoperability of NGO data. TechSoup Global is also developing an opensource, big data infrastructure for the social benefit and philanthropic sector, which will enable a "give and get" online marketplace for philanthropy and broader social impact. This will start off with TechSoup's products and services and will subsequently add other services individuals or institutions want to provide or access. It is a really exciting project and some of the discussions on both opportunities and pitfalls of big data that occurred at the OECD Forum have already contributed to frame thoughts on this issue.
______________________________________________________________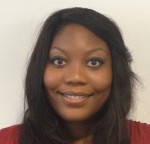 Keisha's interests lies in the use of technology and data for development, data communications, digital inclusion, and also data privacy and protection. She is currently Senior Manager, Business Planning and Research for TechSoup Global's Global Data Services Programme. She was an Internet Society Fellow to the 2012 OECD Technology Foresight Forum, "Harnessing data as a new source of growth: Big data analytics and policies" and successfully completed the DiploFoundation's 2010/2011 Internet Governance Capacity Building Programme. Data privacy and protection was one of the ICT policy areas which held her focus for the programme, during which time she wrote about "Intergovernmental organisations' (IGOs) sharing and linking open and real time data for inclusive governance; development effectiveness and protection of privacy and security". She has an MA in International Relations from the Universiteit van Amsterdam in the Netherlands and a BSc. in Sociology from the University of the West Indies in Trinidad and Tobago.