By Karen McCabe, Senior Director of Technology Policy and International Affairs at the IEEE Standards Association.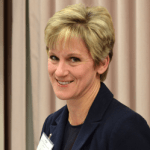 A segment at the ITAC Forum held during the OECD Ministerial this past June was dedicated to a thought provoking discussion on Open Standards for an Open Internet of Things (IoT).
Joining the interactive panel were Laurent Liscia, CEO and Executive Director at OASIS, David Conrad, Chief Technology Officer at ICANN, Monique Morrow, CTO, Evangelist for New Frontiers Development and Engineering at CISCO, Roberto Minerva, Research Coordinator at Telecom Italia Lab and Chair of the IEEE IoT Initiative, Elsa Chan, Co-Founder of Jetlun, and Luis Kun, Professor of  National  Security  at  the Center  for  Hemispheric  Defense  Studies at  the National Defense University.
With most major sectors impacted, we anticipate IoT to usher in a revolutionary, fully interconnected "smart" world, with integrated relationships between objects, people and their environments. This will be compounded by the emergence and adoption of new technologies and disruptive business models, and as the world population increases and billions of people come online.
There is quite a bit of research done which points to impressive data points that underpin the predicted opportunity in the IoT landscape. This includes a study done by API Research that estimates that there will be more than 30 billion wirelessly connected devices by the end of the decade. Gartner Group predicts the aggregated value and economic benefit of IoT to exceed $19 trillion. And a white paper issued earlier this year by Machina Research states that open standards in IoT deployment would accelerate its growth by 27% and reduce deployment costs by 30%.
But the question lingers—how to we realize the benefits of these numbers? As we move toward an IoT enabled future we need to think and act strategically so that the maximum advantages and benefits of IoT can be realized.  Conversely uncoordinated actions, such as on standard setting (by public or private actors), risk undermining trust and even the understanding of the benefits of the IoT. We know that the potential ramifications of these risks can be significant, particularly in the areas of security and privacy; interoperability; and in regulatory and human rights issues—as well as in the ethical dimensions and considerations of IoT.
During the session, insightful perspectives were shared as together the panelists and audience explored how open standards may enable a clear definition of relationships among IoT's numerous vertical markets, minimize fragmentation, improve interoperability and transform the current state of activities and standards to enable economy of scale and a vibrant IoT ecosystem.
It was noted that IoT is early in its maturing curve. There are many protocols and limited interoperability, with many bodies trying to establish themselves as leaders in the standards space. In navigating the IoT space, it's important to note that just as the standards for the Internet evolved to open standards, the same most likely will be true for IoT. The common values of open, transparent and inclusive that led to the development of the Internet standards will be applicable for IoT.  As we evolve to open IoT standards the journey will include a gradual evolution through a cycle that includes an experimental stage where organizations are trying and testing proprietary protocols and mechanisms, some which may not lend themselves well to standards. The second phase would be one of consolidation, where some protocols merge and some die out, with the third phase of commodization of open standards. In this phase, a foundation or system of standards is established upon which new developments are made and advanced.
When we speak of IoT, we are speaking to the digitization of society, and we need to look at how open, market-driven standards will enable this. It is important to take into consideration the technologies on the horizon, including those associated with cognition, artificial intelligence and robotics, and to the Internet of the human being.  With this, multidisciplinary approaches and engagement that include those outside of the technology sphere will be vital.
The importance of collaboration that is multidisciplinary was a common theme during the discussion.  In addition to cooperation among standards bodies, there must be cooperation among the government and private enterprise. It was cautioned that if "siloed" behavior continued there could be multiple, non-interoperable systems and devices.
During the session some trends and predictions were discussed. These included:
The bottom up, inclusive and transparent approach of open standards development will result in standards being developed more quickly.
Industry actors will become more open to "interoperating" with each other.
Open standards development processes will become more multidisciplinary and inclusive of a variety of cultures and generations.
Open source and open standards will look a lot alike in five years.
The most successful standards will be the ones that are not backed by special interests, but will be the result of public/private partnerships, where governments will look to industry and others for best approaches and what is needed and industry will rally around this with the hope of a regulatory environment to accompany the public/private partnership.
As we rapidly move to a pervasive IoT environment , it is of upmost importance the privacy and security is incorporated in the very beginning of technology and standards development.
There will continue to be disruptive business models.
As the participants addressed the current standards landscape and what is on the horizon, there was agreement that we are in a place of exponential change with the rapid rate of technological development in IoT across all major economic sectors, coupled with increasing global markets. With this, the open standardization process needs to become more agile, but regulation can also have an impact on progress of interoperability. The lesson is clear: to realize the promise of IoT, it is vital that technologists and policy makers work in an open framework.
————
Karen McCabe is Senior Director of Strategic Marketing and Product Development at the IEEE Standards Association, where she leads the global marketing, communications and community engagement efforts for IEEE standards and consensus-building programs and activities and leads standards product development and publishing toward the fulfillment of the IEEE-SA's strategic goals and mission of enabling and promoting the collaborative application of technical knowledge to advance economic and social well-being.